"Where is the song that goes with this story? And the Sword drill I had ready? They've been knocking around for months. Now, when I need them to teach this Bible story, I can't find what I need!"
Bible Teacher, does this sound like you? It was my complaint so many times that I decided to do something about organizing my Christian Education materials. Perhaps my system will help you make good use of your resources.
Below you will find the following instructions to help you organize:    
Numbering Resources
Indexing Resources
Sorting Resources by Scripture Reference
Assigning Chronological Numbers to Each Bible Story
First, assign a chronological number to each major Bible event or person; for example, Creation, obviously, is #1; Adam, #2, etc. (This is done for you in my "Chronology with Scripture" chart found as a sub-menu of "Organization and Supplies.")
On a manila envelope (landscape orientation with opening at the top), write the number of the story, its title, and the Scripture reference. (Ready-made labels for your envelopes are found in the "Chronology with Scripture" sub-menu of "Organization and Supplies.")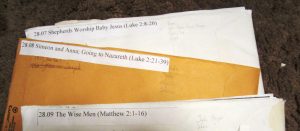 Into each envelope place for that story all the loose resources available—a copy of the written-out story, flashcards of the terms to be learned in the story, extras (e.g., a commentary note or a puzzle), visual aids, handwork, even notes about the location of larger visual aids, etc.).
File all these envelopes in numerical (chronological) order.
Note: Because this is a chronological listing, some books or chapters are out of their canonical order, particularly Job, Ruth, Psalms, Proverbs, Joel, Amos, Hosea, Jonah, Micah, Isaiah, Zephaniah, Habbakuk, Jeremiah, and Daniel.
Numbering all resources not contained in envelopes of specific stories
Now, what about all those coloring books, flannelgraph series, maps, toys, teacher's resource books, and you name it that contain several stories? These are sorted, numbered, and indexed (see "Indexing Resources below) by the type of storage they require. These are my categories:
(#) items that can be kept in file cabinets (See "Numbering Items That Can Be Kept in File Cabinets" found below.)
(BL) for large, (BM) for medium, (BS) for small books by size (See "Numbering books" below.)      
(BR) books of reference specifically for teachers
(BB) bulletin board items
(C) cassette tapes
(CD) CDs
(D) DVDs
(FB) flannel backgrounds
(FS) flannelgraph series
(G) games
(M) maps and charts
(O) objects (g., wheat, coins)
(S) visualized songs
(T) toys and puppets
(V) VHSs
Numbering items that can be kept in file cabinets
Some examples of resources of this type are coloring books, multiple flashcard or flannelgraph stories in one thin volume, stapled story books—anything that will fit easily in a file cabinet. Most of these items are placed in manila envelopes and filed in a standard file cabinet. If items must be filed in wide drawers, put a note listing the number and its location in the numerical order of that item in the standard file cabinet.
First, collect all of these items in one place. You may sort by Bible chronology, but this step but is not necessary. With a permanent marker, write numbers in a consistent location (upper right corner on the front of a manila envelope; upper right corner on a sticker on the back of a book).
Number all these items, #1, #2, etc. Write on manila envelopes a short description or the title of contents. You are not done with these items, but you may temporarily file them. (Example of numbering: #9 Junior SS manual on Joseph.)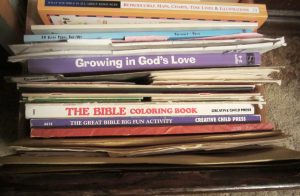 Numbering books
Generally speaking, these are hardbound or softcover books for students' use and are stored in places other than file cabinets. I use narrow boxes that can hold several books and store the boxes on bookcase shelves. The dimensions of the various sizes are as follows: large = larger than about 6"x8"; medium = about 6"x8"; small = smaller than 6"x8".
Stickers are placed on the back of the books, upper right corner, before being numbered with permanent marker. (Example of numbering: BM 34, which indicates this book is the 34th one numbered and is medium in size.) Keep books in numerical order.
Numbering the other categories
Use the letters for the other designated categories found above along with numbers on the back of the items or the containers holding those items. (Example of numbering: T3 for my toy archery set.)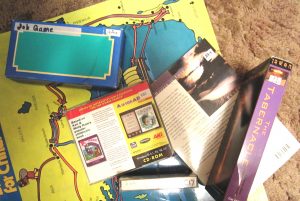 (Please read "Numbering Resources" before doing any indexing.)
So, I've got all my resources numbered. Now, how do I connect them to the story I'm teaching? Frankly, this is a hard, time-consuming task, but it is totally worth the effort. Here we go.
Prepare a document entitled "Bible Story Index." (Some people prefer to use a spread sheet; I prefer to use a table and will give instructions with a table in mind.) Insert a table with up to ten columns labeled as follows (choose the designations you wish to use, not all are necessary):
Scripture (2-inch column): Scripture reference for the resource (This column is mandatory.)
Story (2-inch column): Title of the page or section
Source (1/2-inch column): Publisher of the resource
# (1/2-inch column): The number you have assigned to this resource (This column is mandatory.)
Page (1/4-inch column): The page number on which the section begins
Location (I used this column when indexing my church resources located in 2 places; optional column)
V=Visuals (1/4-inch column): Place an X in this column for a resource with visuals.
S=Story (1/4-inch column): Place an X in this column for a resource with a story.
X=Extras (1/4-inch column): Place an X in this column for a resource with extras, e.g., games, songs, handwork.
A=Age (1/4-inch column): N=Nursery; Pre=Preschool; K=Kindergarten; P=Primary; J=Junior; MS=Junior High or Middle School; HS=High School; A=Adult
Filling in the Scripture column
This column might be the most difficult to fill in, but it is the basis for locating materials for each story.
Take in hand your first (#1) resource that is in the file cabinet. Determine the Scripture reference for the first page of the resource. Hopefully, it is written on the page or somewhere within the particular lesson/selection. If not, refer to the "Chronology with Scripture" chart to find the Scripture reference. Type that reference into the first column under "Scripture." If an item just does not fit any particular Scripture reference, you might make a separate index table that lists subjects (e.g., justice, lying, prayer) alphabetically.
Format and abbreviations in the Scripture column
Bible books: Use as short an abbreviation as you can without periods in order to save time and space. Be consistent; e.g., Josh or Jos, not both. (Some Bibles show Bible-book abbreviations in the Table of Contents.)
Chapters and verses: So that you can sort your references alphabetically and numerically after you have entered all the information, it is important to use zeros as place holders in both chapter numbers and verse numbers; e.g., Gen 05:01. Psalms is the only book that will need three places in the psalm number (psalms are not chapters), and Psalm 119 will need three places for the verse; e.g., Psa 086:01 for Psalm 86:1 and Psa 119:145 for, obviously, Psalm 119:145. If a book has fewer than ten chapters or a chapter has fewer than ten verses, only one digit is necessary for that item; e.g., Ru 3:09 or Jer 45:5.
Here is an example of a sorted index:
| | | | | | | | | | |
| --- | --- | --- | --- | --- | --- | --- | --- | --- | --- |
| Scripture | Story | Source | # | Page | Locat | V | S | X | Age |
| 1 Cor; 2 Cor | Corinth in the Time of Paul (diagram) | GosLit | #78 | 235 | | x | | | J |
| 1 Kings 03 | Wise King Solomon | FaitRts | #82 | 16 | | x | | x | K |
| 1 Kings 01—14; 2 Chron 01—12; Job; Prov; Eccl; S oof Sol | Two Kinds of Wisdom | NavPr | #BM7 | 107 | | | X | | J |
| 1 Kings 06, 07 | Solomon's Temple Diagram | GosLit | #M27 | | | x | | | P |
| Ex 02:01-10 | Moses and the Princess | Stand | #T2 | | | x | x | | Pr |
| Ex 02:01-10 | Moses in the Bulrushes | Stand | #BL8 | | | x | x | | Pr |
| Ex 19; 20:25:08, 09 | Moses and the Ten Commandments | Plamor | #G2 | All | | | | X | Pr |
Sorting Resources by Scripture Reference
Now that all resources have been indexed, sort this information so that all similar references can be found together as in the above example. The index will be in alpha/numeric order, not Biblical order. Use this information to find all the resources you have on each particular Scripture reference. I usually copy and paste the part of the index that matches my story into a new document . The printed copy stays in my envelope for that story.
NOTE!! If you do not know how to sort a table, check your word processor's Help function. Be careful! You will be selecting the entire table! In order to avoid deleting all of your index work, it might be wise for the first-timer to save a copy of the index before sorting.
Copyright 2018©  teachingthebibletokids.org
All rights reserved. See Home Page for details.